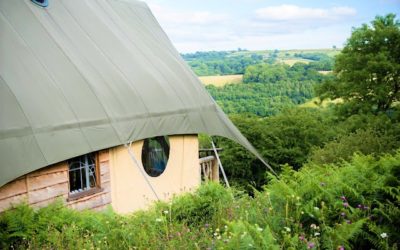 Recent Bees Bower Reviews
Welcome to Paradise
Indulge yourself as you switch off and leave the rest of the world behind, soaking it all up from your own copper bath. Bee's Bower is rustic luxury at its best, a truly original glamping experience. Furnished with eco products, your stay in the Bower will connect you back to nature, providing the perfect setting for a digital detox or romantic get away.
Our bamboo bedding, thick natural mattresses and sheepskin blankets are sure to keep you warm as you snuggle at night under the stars, listening to the local owls. Or maybe you will pick a book from the shelf and snuggle by the roaring fire with a big mug of hot chocolate.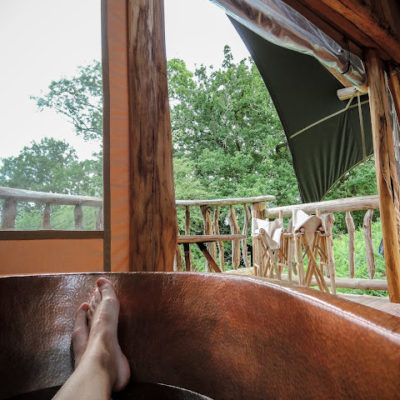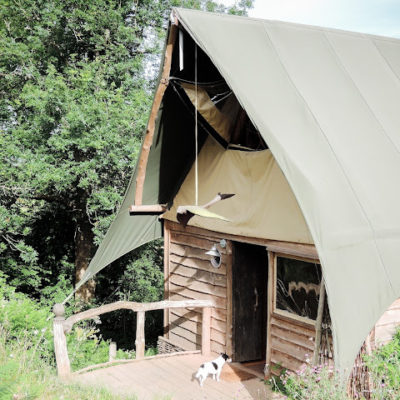 Escape Reality
This stunning structure was built by a shipbuilder drawing on inspiration from around the world. It creates an exhilarating experience as you connect with the natural building techniques and the surrounding landscape whilst enveloped by nature. A mix of canvas, cob and round wood construction, this off-grid cabin is a spectacle to behold.
Bee's Bower is located at the far end of our farm, through wild flower meadows and overlooking a wooded valley providing seclusion, a true get-away.
Things to know
All of our accommodation is off-grid. The lighting is solar powered, we have no Wi-Fi. Most of our farm is run on renewable energy but there is a gas boiler at Bee's Bower to ensure the bath and shower run hot.
The kitchen is well equipped and we provide some of the basics which include tea, coffee and oil and there is also an outdoor BBQ area.
We will provide a basket of wood for the fire and some natural fire lighters to ensure you stay warm. And most excitingly, Bee's Bower has a large telescope so if you have a clear night you should be able to make out Jupiter's moons.